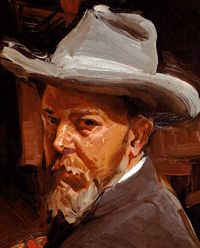 In March I went to Madrid to see my son. I went shopping but I also took the chance to visit the House - Museum of Sorolla, "the painter of light."
It was easy to go by bus. I got off at "Glorieta de Emilio Castelar" and then I went to number 37 Paseo General Martínez Campos.
When you enter the museum, you find a beautiful garden inspired by Andalucia, with shrubs, plants and some fountains.
On the ground floor there is a variety of pottery, which was collected by Soroya, and the only sculpture representing his wife, Clotilde.
The entrance to the museum-house is not through the main door but by a side chain accessing rooms: I) Biography and introduction to his painting. II) Dispatch and beach scenes. III) workplaces where there are large portraits, beach scenes, gardens, as well as furniture, containers, utensils, paint resting place .. and a selection of drafts of his painting in three phases: initiation, development and consolidation. After you open the hall of the house, where the "antecomedor", dining room and stairs leading to first floor. Here we find furniture, desks, cabinets, sculptures, pottery from different places and styles, along with tables that dominate nature, the sea and characters, full of light.
On the second floor rooms are accessed IV-VII with exposure time of the most characteristic (portraits, gardens, typical environments ,..). The original Museum Sorolla Joaquín Bastida (1863-1923) retains the atmosphere of the house and the workshop or work area, where the bulk of his collection along with collections of sculptures, furniture, jewelery, textiles, and so Special Spanish ceramics, particularly Valencia and Aragon.
If you visit it, you will not get tired, because you can see everything in an hour.
Links:
http://museosorolla.mcu.es/historia.htm
http://pemgila.blogspot.com/2005/11/joaquin-sorolla-y-bastida.html
http://www.estadistica.net/Masoneria/sorolla.html